Many homeowners dream of remodeling. They fantasize about new countertops, gleaming appliances, and newly laid floors, all in perfect condition. A well-planned and properly executed remodel can improve your home's value while making your property easier to sell when the time comes.
Yet myths about the remodeling process abound, and they can detract from the benefits you receive with a remodel. These myths often have some reality behind them, as they come from people who have made mistakes in the past. So how can you avoid falling victim to them? Education is the key.
Before you hire a contractor or tackle a DIY remodeling job, make sure you understand these myths, how they affect the process and what you can do to avoid falling victim to them.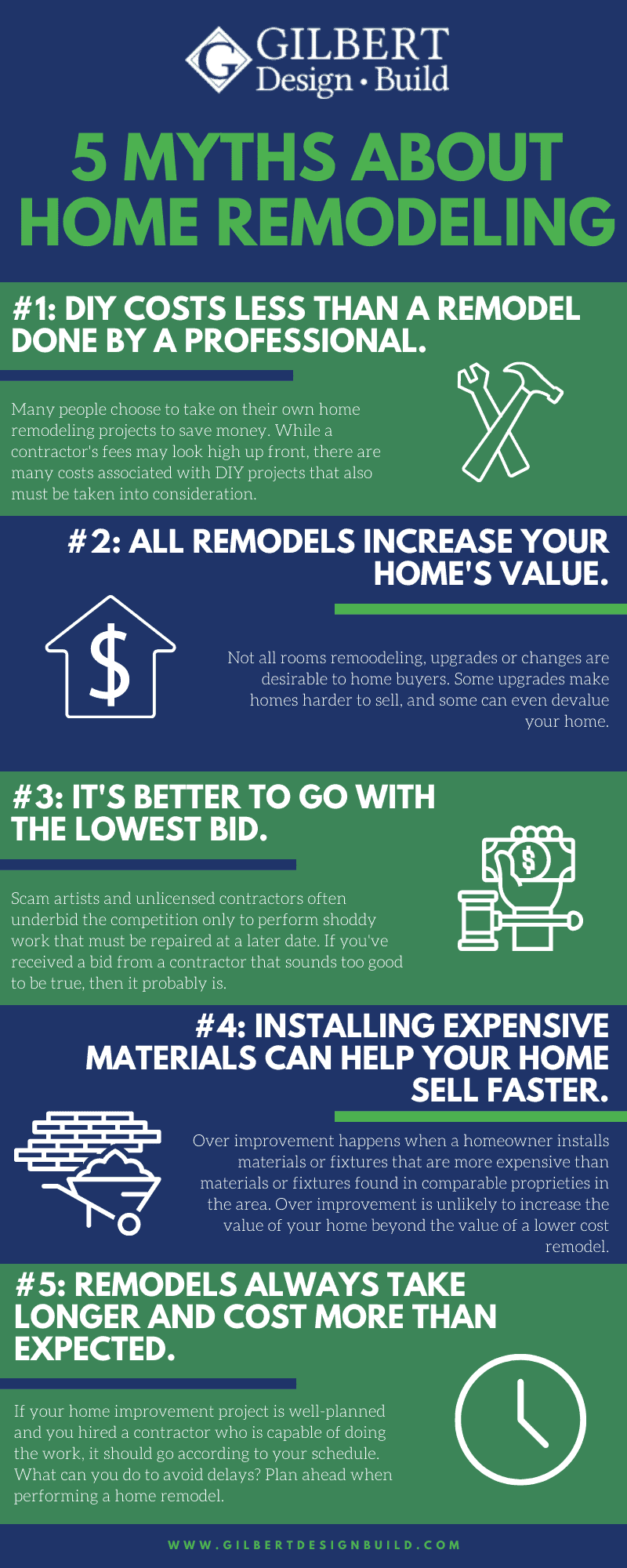 Myth #1: DIY costs less than a remodel done by a professional.
Many people choose to take on their own home remodeling projects to save money. While a contractor's fees may look high upfront, there are many hidden costs associated with DIY projects that also must be taken into consideration. If you fail to count the cost, you may actually end up paying more in the long run. Not only that, but you may end up with a remodeled space that you don't love.
Tools
The cost to purchase tools for just one DIY project can be hundreds or even thousands depending on how many tools need to be purchased, and how specialized those tools are. Not only that, but you'll find that most contractors own better tools than the products homeowners keep in their garage. Because they use the tools multiple times for multiple projects, they benefit from better tools. Better tools mean better quality work and better results overall. As you count the cost for DIY vs. professional home repair, be sure that you add the cost of the tools to the overall process.
Time
A good contractor should have the experience and knowledge to complete your home improvement project as efficiently as possible. While the timeline might seem long to you, especially if you're tackling a lengthy kitchen remodel, you need to remember that doing it yourself will take longer. Not only will you need to fit in the work around your schedule, but you will need to learn skills that a professional likely already knows. It will be very difficult for you to complete the task as quickly as a pro. Trying to do it yourself wastes your time, and DIY kitchen remodels can lead to drawn-out inconveniences at home when the main room is out of commission for weeks on end.
Imagine, for example, that you're installing a new toilet in your bathroom. While a contractor might have your new toilet installed in a single morning, you might take all day – or even longer. Imagine the inconvenience of being without a toilet. This is difficult to quantify but well worth considering as you count the cost of a DIY project.
Errors
Inexperienced homeowners often make errors in their DIY projects. They might forget to pull a permit, connect the wrong wires in a light fixture, or install the gas stove incorrectly. Depending on the errors made, the costs associated with damage to the house or repair to the property could be extensive and may devalue the home. Some errors are even dangerous, leading to natural gas leaks, fires, or mold and mildew from pipe leaks. When this happens, any money saved by doing the work without a contractor is often spent making repairs.
Not only that, but these types of errors can actually put your family's safety at risk. Some errors lead to natural gas leaks, fires or mold, and mildew from pipe leaks. This is not something you want to put at risk.
Myth #2: All remodels increase your home's value.
One of the main reasons to invest in a remodel is to increase your home's value (such as a bathroom remodel), but use caution here. Not all room remodels, upgrades or changes are desirable to home buyers. Some upgrades make homes harder to sell, and some can even devalue your home. Some examples of home improvement projects that can make your home harder to sell include:
Upgrades associated with specific hobbies or interests, like installation of a built-in saltwater aquarium or building a home recording studio.
Upgrades that require a lot of work, like the installation of a complicated, high-maintenance garden.
Remodels that remove living or sleeping space from your home, like converting a bedroom into a dining room.
Removal of old, attractive trees from your lawn.
Some home remodels do help your home's value. In the Florida area, consider these remodeling jobs:
Improved kitchen or bathroom spaces
Upgrades that add more living space to the home
If you're a homeowner who would like to make a home upgrade that would improve your home's value, talk to a real estate agent, a home inspector or appraiser, or a contractor to identify parts of your home that would benefit from improvement.
Myth #3: It's better to go with the lowest bid.
So, you need to make a home repair, and you're on a budget. It's tempting to hire the contractor with the lowest bid, isn't it? Be cautious, because the cheapest person is usually cheap for a reason. When you're upgrading and updating your home, you want the work done well.
Scam artists and unlicensed contractors often underbid the competition only to perform shoddy work that must be repaired at a later date. If you've received a bid from a contractor that sounds too good to be true, then it probably is. Proceed with caution. Don't hire a contractor until you:
This doesn't mean you have to go with the most expensive quote, either. You can strike a balance between cost and quality. Our team strives to balance that for you, so you can enjoy a beautiful home remodel without unnecessary costs. You also have financing options available, so check out these financing ideas.
Myth #4: Installing top-of-the-line materials can help your home sell faster and for more money.
Over improvement happens when a homeowner installs materials or fixtures that are more expensive than materials or fixtures found in comparable properties in the area. Over improvement is unlikely to increase the value of your home beyond the value of a lower-cost remodel.
Homebuyers will offer to pay what is reasonable for your neighborhood, and any money spent over-improving your home will likely not be recovered when your house sells. If you choose to wait for an offer that will give you a return on your investment with your most recent remodel, you could be waiting for a long time.
Myth #5: Remodels always take longer and cost more than expected.
Good contractors build a margin of error into their timeline and work within your budget to keep your project affordable. If your home improvement project is well-planned and you hired a contractor who is capable of doing the work, it should go according to your schedule. Also, a skilled contractor will know how to add some wiggle room to the budget for unexpected costs, so increased costs are not always a guarantee.
The best way to get a fair quote for both cost and timeline is to be open with your contractor from the start, so they know what you are looking for in your finished remodel. Save magazine layouts for inspiration and share your ideas with your contractor upfront. Avoid making last-minute changes to your remodel, and communicate your budget to your contractor. Get everything that you'll be doing in your remodel in writing to ensure that everyone is on the same page.
Ready to Renovate a Room or Your Whole Home? Work With an Experienced Contractor
Each of these myths is founded in some reality. These myths come from actual homeowners who made poor choices in the past. Yet you don't have to be one of them. Working with the right remodeling team can help you avoid these problems and achieve a look you love for your home.
Do you need remodeling ideas or help to plan your timeline? We're here to help. Are you looking for assistance with financing? Our team can help you explore your options.
Often the best predictor of success for your upcoming remodel is the quality of your contractor. Contact Gilbert Design Build to get started with your upcoming home improvement project in or around Sarasota Florida.