Serving and Enriching lives by
Providing Beautiful Work, with Care,
on Time and on Budget
At Gilbert Design Build, we are obsessed with getting the details, even down to the very last nail, exactly right. We are a design-build company, which means that we are wholly responsible for every step in your remodel. Our full-service remodeling experience was designed to deliver on all aspects of your remodeling project.
But don't let that make you think that you won't have any control. After all, this is your dream we are bringing to life. We work closely with you throughout the design process, and nothing gets decided without your input and approval.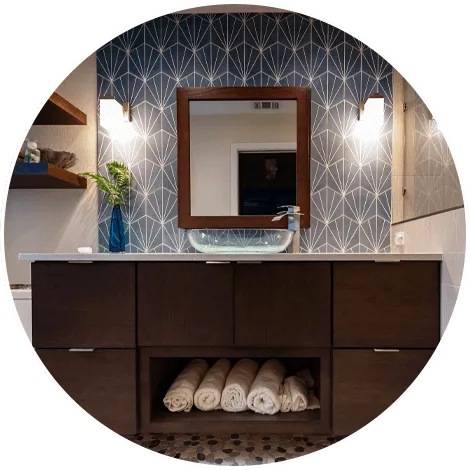 Dedicated to Our Craft
Our dedication to getting the details right has gotten a lot of accolades throughout our 20+ years serving the Sarasota-Bradenton area. We hold an A+ rating with the Better Business Bureau and earned our way into the national home remodeling Big 50.
If you like what you see and want to experience the very best custom remodel that a design-build company can offer, contact us today to schedule a consultation.
Our Core Values
We at Gilbert Design Build hold to these five virtues every day and in every decision we make. We believe they have made our success possible and are the best way to ensure that every client is treated to a home remodeling experience beyond their expectations.
Honor
What we do is design and remodel. We demonstrate honor to others with every project we touch by showing respect to each client and their home. Our team understands that remodeling is disruptive to the way you live in your home, and we do our best to keep the mess and dust to a minimum. We are also aware of the frustrations that arise when deadlines don't meet expectations, so we are always straightforward if there is a delay and promise to communicate with you throughout the process.
Excellence
Someone once said, "Perfection is not attainable, but if we strive for perfection, we just might hit excellence." We strive to be excellent in the quality of our designs, craftsmanship and everything we do.
Beauty
It's in the first word of our positioning statement: "Beautiful Work, with Care, on Time, and on Budget." Yes, we deliver amazing and beautiful renovations that can truly transform your home and how you live in it. We are in the industry of enhancing form and function because we love and appreciate living in truly beautiful spaces – and we enjoy helping others to do so. However, the beauty doesn't stop there. We want to bring beauty to the world we live in by the way we interact with the people we serve.
Innovation
It takes continual innovation to be successful in design and
remodeling. Redefining how space is utilized and how to modify the structural
components and mechanical systems along with bringing the fixtures and finishes
together holistically is the definition of innovation.
Family
As a family owned and operated design build business serving the Sarasota-Bradenton for 20+ years, our foundation is built on our steadfast values, a passion for exceptional work and our commitment to forging lasting relationships. We treat you like a part of our family every step of the way, while we provide you with the best design, craftsmanship and remodeling experience possible. We realize that in order to do that successfully, we need the best people on our team. We value our team members, celebrate their talents, offer a range of benefits and respect their family time.