Our client lives in the River Club community in Lakewood Ranch and has lived in their home for over twenty years now. Over the course of that time, they have made numerous updates to their home but had never gotten around to remodeling their kitchen as they wanted. When they finally felt it was the right time to do so, they did the necessary research and stumbled upon us (and we are grateful for that)!
With everything in the kitchen being original to the home, it was noticeably cosmetically outdated but functioned okay for how they were using it. They came to us wanting to gut the entire thing and start new.
In starting this kitchen remodel, we removed literally everything aside from the flooring and knee wall of the breakfast peninsula. This included the soffit lightbox, cabinets, countertops, appliances, and island. We also modified the existing pantry area to accommodate a built-in pantry.
Once the demo debris was removed from the area, we modified the existing electrical above the breakfast peninsula for new pendant lights, as well as above the kitchen island area to accommodate a large chandelier and a built-in microwave. By choosing to move the microwave into the kitchen island as opposed to above the stove as it was before, our client was able to incorporate a range hood.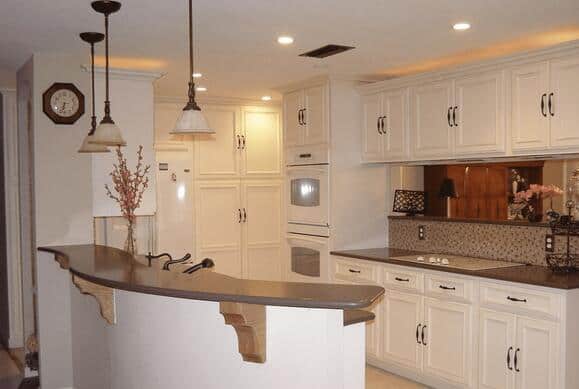 Once the electrical was modified, we repaired and textured the ceiling where the soffit was and began installing Showplace full-overlay cabinets in maple with shaker-style doors throughout the kitchen. A custom angled left corner wall cabinet with a glass insert was incorporated to be less streamlined and give off more of a texted and dimensional feel. Once the upper and base cabinets were in place, we focused our attention to the new pantry area, which included matching maple Showplace cabinets with 93" tall double doors with full extension roll-out drawers and two double-door cabinets.
The new island area also incorporated Showplace cabinets, however in a gray shade. By incorporating two different colored cabinets throughout the kitchen, the room felt light and open. The island cabinets also included a built-in microwave base cabinet and drawer bases for easy storage. Following the installation of all the cabinets, we added panel molding to the backside of the breakfast peninsula knee wall. This gave off the appearance that the peninsula was one large cabinet and provided a high-end feel, as opposed to just painting the wall.
Once all cabinetry was in place, we laid a grey Bedrosians tile from the countertop to the ceiling on the range hood wall. This installation was unique in that it extended up the entire back wall, giving off a 3-D effect. In completing this project, we laid sparkling granite countertops and positioned brand-new stainless steel appliances. We also installed Hafele pull-outs in a few of the base cabinets and mounted Amerock pulls on the drawers and doors.